Découvertes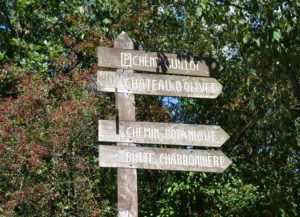 Les balades à pied ou à vélo permettent de découvrir une région riche d'une nature luxuriante, mêlant forêt, rivières, prairies, vallons et escarpements.
La forêt de Grimbosc à quelques kilomètres est le repaire des amoureux de la nature, des balades en famille, des amateurs de pêche.
Les plus sportifs ne sont pas en reste, le canoë kayak est une discipline pratiquée couramment dans la région où elle fut à l'honneur lors de championnats du monde.
Une envie de littoral, les plages du Calvados offrent un panorama de découverte des plus variés. De Honfleur à Cabourg, c'est tout le romantisme du bord de mer avec ses promenades le long de l'eau. La baie de l'Orne  et ses stations balnéraires sont une invitation aux sorties en mer de toutes sorte. Enfin les stations du Bessin sont les témoins vivants de nos dernières grandes batailles.
Les villes ne sont pas en reste et vous offrent des découvertes inégalées : le château de Falaise, Honfleur et son vieux bassin, Deauville et ses planches, Caen et son château médiéval et le Mémorial pour la paix ou encore Bayeux dont la tapisserie est  au patrimoine mondial de l'UNESCO.
---
Walking and cycling will allow you to discover an area rich in unspoilt nature, combining forest, rivers, meadows, hills and valleys. The Grimbosc forest just few kilometers away is a place ideal for family walks or even fishing enthusiasts.It is possible, for the athletes, to go canoeing a short drive away from the chateau. 
From Honfleur to Cabourg, you'll discover all the romance of the seaside with its walks along the water. The bay of Orne and its seaside resorts are an invitation to boat trips of all kinds. Finally the Bessin towns and villages are living witnesses of our last greatest battles.
Cities offer you beautiful discoveries: The castle of Falaise, Honfleur with its marina, Deauville and its promenade des planches, Caen and its medieval castle and the Memorial for peace. Last but not least, the Bayeux tapestry, a UNESCO World Heritage Site.